Find the gap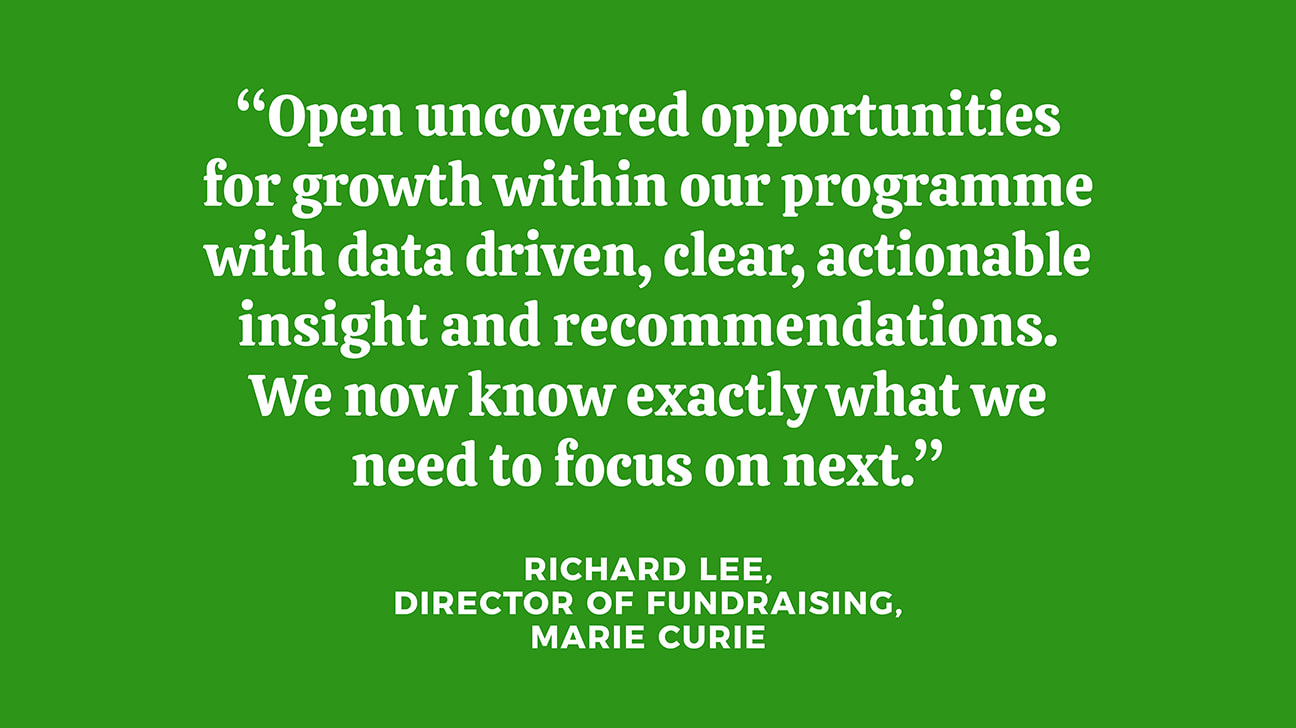 Alex explores the value of gap analyses – a look at your fundraising programme, your audiences, and the critical gaps and overlaps in between...
Precious few of us fundraisers have the time to do everything we'd like to. One thing that rarely gets to the top of the to-do list is a proper product and audience audit – a look under the hood at a programme level to understand audience opportunities, and over or under saturation within the programme – something we like to call a Gap Analysis. Unfortunately, this often means money is being left on the proverbial table within our programmes.
If you find yourself asking any combination of the below questions, a gap analysis can give you the answers you need to ensure resource and budget is delivering the best possible returns for your charity:
Is our product portfolio meeting the needs of our audiences? (do we need new products / to adapt our products etc)
Do we have a balanced product portfolio? How does it compare to others?
Are our team focusing their efforts where they can have the most impact?
Are we ready to maximise LTV from new target audiences?
Are our new products performing against their objectives?
Have our more mature products reached saturation? How can we avoid decline?
Are we cannibalising our own audiences?
Where are our biggest cross sell opportunities across our organisation? Which products and audiences align?
Having answers to these questions, based on up-to-date sector and landscape insight and your data, empowers great planning and decision making. It is also a great way to bring colleagues together to focus attention where you can collectively have the greatest impact, be that across areas of fundraising, fundraising as a whole, or everyone in your organisation who interacts with the public.
So how do we get there I hear you ask?
Step 1: Determine who is involved and what your key objectives are
Like any successful project, we start with getting these essentials in place.
The wider a gap analysis can be, the better. As you know, your supporters and the public don't see your teams, they see your cause. So looking at your events portfolio is great, but it would be better to include all mass fundraising as people could (and do) interact with you across them. And some campaign for you too, so best look across fundraising and campaigning if we're really going to find the gaps and over saturation with your organisation's audiences and products. In fact, if your organisation works in silos at the moment to any degree, it's even more reason to cross those internal boundaries.
You need to agree what products / income streams you'll be looking at and who will be involved as the project progresses. Every team stands to benefit from this piece of work, so go for it!
Step 2: Gather insight
What do we know and what can we learn about your products and audiences?
Sources of information could include:
Landscape research – what's happening in the market, with relevant competitors and with your audiences?
Stakeholders interviews – insight from your product and audience experts is essential, don't overlook it!
Audience insight – what can your database tell you? How are audiences' wants and needs changing?
New audience insight – where are your growth opportunities of the future?
Key metrics by product
And many, many more!
"The wider a gap analysis can be, the better. As you know, your supporters and the public don't see your teams, they see your cause."
Step 3: Analyse
Now we can bring everything together to map your portfolio and find the gaps and areas of over saturation, answering questions like:
Which audiences have the greatest headroom for growth?
Where are your greatest cross sell opportunities?
Where are your products on their product life-cycles? How should this inform their future strategies?
In which products should your strategy focus on investment / adapting / innovation or divestment (reducing invest or closing down a product)
Step 4: Turn insight into action
An essential final step, it's all very well having all this insight, but it's pointless if we don't know what to do with it. We will determine what it all means for driving income and efficiency for your programme, working collaboratively to ensure you and your team have a clear, insight driven plan of action.
We'll know your gaps, and overlap and you'll likely have a huge list of opportunities by audience and product – so we need the plan. What needs to happen first? Are there key enablers we need to get in place? Where's the lowest hanging fruit?
We've been working with charities to deliver this essential enabler to fundraising growth and efficiency for years now – and we can help you too. Get in touch to learn more!