Are you our new Digital Strategist?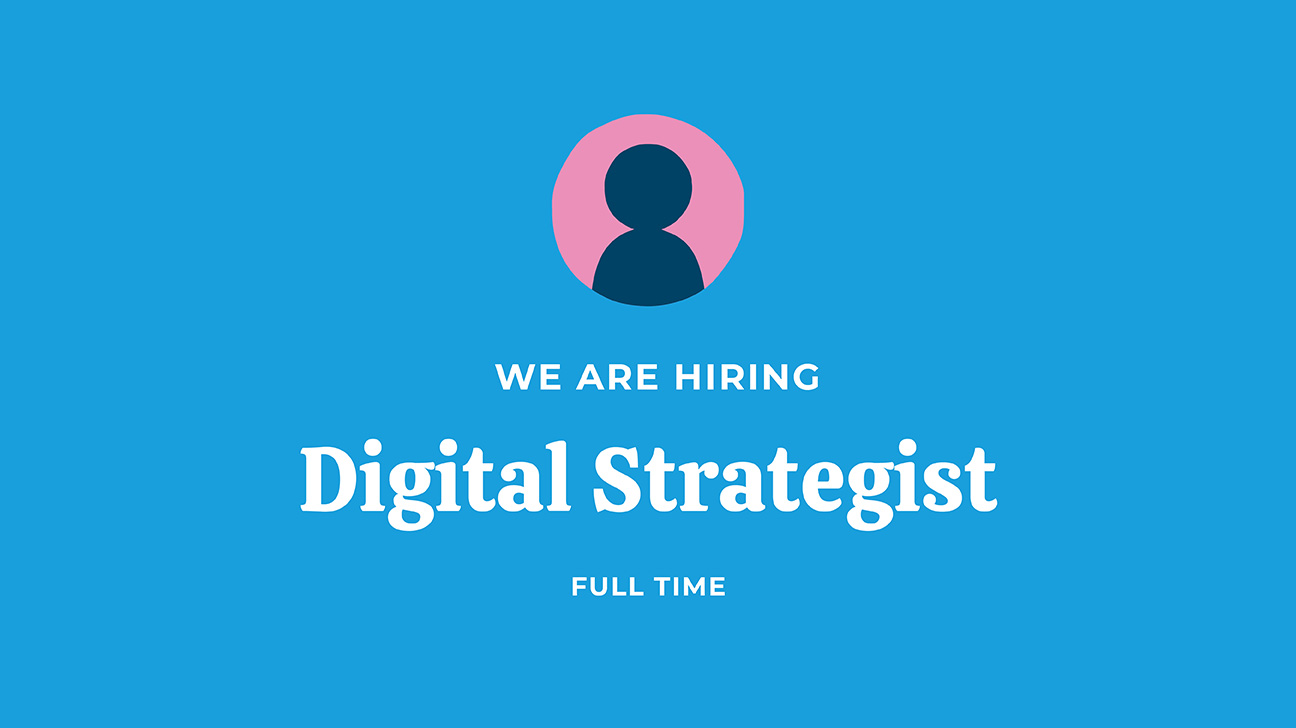 Open's digital offering is growing! We're looking for a digital strategist, or marketer with experience driving response in digital channels, to help develop world class digital led campaigns, strategies and creative for our charity clients.
You'll assist our Digital Strategy Director in planning, managing, and analysing campaigns across various digital channels. You'll also work with our strategy team in planning integrated campaigns big and small, and our creative studio to help develop world class digital creative.

If you know what gets audiences to tick in social, have experience developing, managing, or optimising campaigns in digital channels, can spot engaging digital creative from a mile off, and know your CPA from your CTR then apply here.
The location
Open has an office within Holborn Studios which is located on Regent's canal in London, within walking distance from Old Street and Angel stations. Our teams are set up to work from home and we come together to collaborate, for team meetings and social events.
For more information about this role, please see below. You can also download the full Job Description and Person Specification here. We particularly encourage applications from underrepresented groups.
Primary responsibilities:
Plan audience led digital campaigns across social, display, email and other digital channels that drive results for fundraising appeals, supporter engagement and mass participation events.
Assisting the planning and strategy team in developing integrated campaign plans.
Delivering and managing campaigns across a range of digital channels – with a focus on paid social, web, and email. This may also include PPC and Display activity.
Reviewing clients campaign performance across digital and offline channels, and making recommendations on how to optimise performance.
Briefing in creative required to execute campaign plans, and reviewing to ensure it follows best practices.
Assisting the creative team in development of creative ideas for digital channels.
Gathering and sharing results and best practices with the wider Open team.
This position may also provide an opportunity to learn about or carry out the below work, however experience is not required:
Wireframing campaign landing pages based on UX and digital design best practice.
Provide technical assistance and consulting to our clients during campaign set up. This is likely to include tracking set up via Google Tag Manager, connecting CRMs to ESPs and advertising platforms, and set up of email campaigns in clients ESPs.
Required Skills & Experience:

You have experience:
Driving response via digital channels

This might be fundraising, event marketing, e-commerce, or any experience where your goal has been getting audiences to take actions via digital channels

Managing and/or analysing campaigns in at least one of the following channels:

Paid social campaigns (specifically Facebook and Instagram)
PPC advertising
Display advertising

Creating audience driven response strategies and/or campaign or marketing plans with a digital focus
Utilising and applying research and consumer insight
Optimising content effectively across digital channels
Getting audiences to engage and take action on social channels
Working as part of a wider team or across various teams
You're comfortable using at a basic level:
Google Analytics
User behaviour analytics tools such as Hotjar & Crazyegg
Mailchimp or other ESPs (not essential)
Social media platforms (Facebook, Instagram, Tiktok, Snapchat, Linkedin etc)
You have the following skills:
Base level knowledge of UX and digital design best practices
Understanding of basic statistical techniques
A high degree of numeracy and the ability to interpret numerical data
Presentation skills and excellent written English
Comfortable working to deadlines
The ability to collaborate in order to achieve shared objectives
You're proactive and solution focussed
You can drive positive changes in campaigns, and if you're not sure of what's wrong or who can fix it, you know who to get involved
Desirable, but not essential:
Experience in the not-for-profit sector
Or experience working in an agency environment