Proud to be a B Corp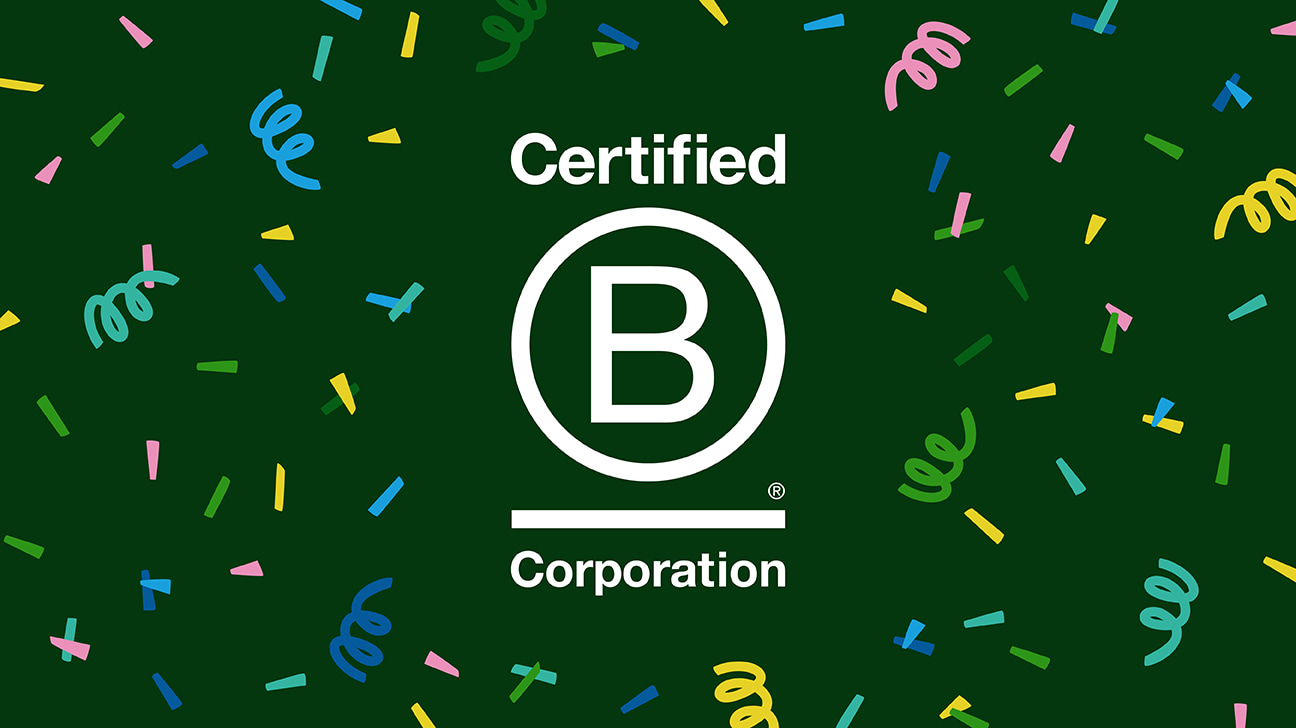 It was kind of inevitable that Open would become a B Corporation. But it still took 14 years for it to happen.
B Corp™ started out back in 2006 with a mission to build a different kind of economy – one that benefits all stakeholders including workers, customers, communities, and the environment. We came along a couple of years later – a business with a stated mission to bring people together to change the world.
So why did it take Open so long to get on board and secure this much-coveted accreditation?
To be honest, we spent a long time believing that we didn't need a certificate to prove we were doing the right thing. But there's also the fact that the process of becoming a B Corp is far from easy.
B Lab (the not-for-profit network behind the B Corp movement) needs to see evidence that applicants are genuinely committed to social and environmental best practice. So they asked us about our clients, our suppliers, our staff, our policies, our contracts, our ownership, our tax affairs, our pay structure, our working environment, our office, our management and how the company is run – both on paper and on a day to day basis.
And once we'd gone through all of that in minute detail, we had to provide documentary evidence to back it all up…
Thankfully, Open was pretty much made to be a B Corp. We scored highly for being who we are and for doing stuff we've been doing for years.
We've given away £400k through our annual Giveathon. We've match-funded countless cycle rides, runs and walks. Our access programme with a local college has been running for several years. Flexible working has always been an option. And we've added a bunch of benefits as we've gone along – including a new Employee Assistance Programme within the last 18 months.
From start to finish the application process took almost a year. But finally, in September 2022, we got the email and there was much rejoicing. We're officially a B-Corp with a score of 117.4 – which puts us some way ahead of Ben & Jerry's and the Body Shop, but behind Patagonia (not that we're competitive).
To be honest, having spent so much time and effort getting certified, we hadn't really looked beyond hitting that goal. And on the day we got the email it felt like our B Corp project was pretty much done.
But now we realise that accreditation is just the beginning.
We've attended the New B webinar and are getting our heads around the B Hive (there are a LOT of puns involved in being a B Corp). We're starting to understand the resources and community that's out there – and the responsibility we carry.
So yes, we're a B Corp. We got a great score and we're really proud of it. But we can do better. We're identifying where we can improve and we'll use the B Corp network to gather ideas and best practice and spread the word. London is now the B Corp capital of the world and we're proud to have (just) made it into the list of the first 1,000 UK B Corps.
We've always known that the best way to change the world is to do it as part of a movement. So we're excited to be part of B Corp – and we're going to make the best of it, for you and for our sector.